API &
Integrations
Use our powerful API suite and native integrations to connect to your systems and supercharge your workflow

FileInvite integrates with your existing tools
Sync returned files with Google Drive, Dropbox, OneDrive, Box & more. And use API or Zapier to send returned form data to your desired destinations.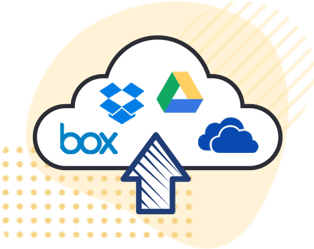 DIRECT INTEGRATION
Sync your cloud storage services
Connect your cloud storage services like Dropbox, Onedrive, Google Drive, Box, and more via our native integrations.
Instantly have files converted, renamed, and pushed to your cloud storage in tidy folders.
ADVANCED WORKFLOWS
Natively connect to data providers
Use our native integrations with various data providers, like Illion bankstatements, to request timely client data with ease.

Supercharge your document workflows and save hours for you and your clients.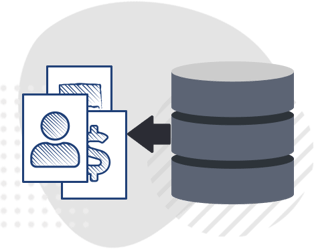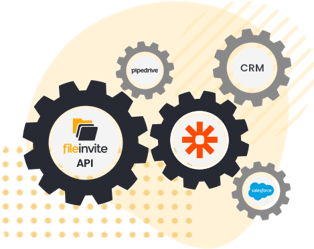 CUSTOMIZED SETUP
Build your own workflow
Click and connect in seconds using our pre-built Zapier triggers and workflows, or build your own Zaps.

Seamlessly integrate FileInvite with your CRM or LOS using our fully featured enterprise-grade API, with full security features.
RESOURCES
API, Zapier and Other Integration Resources
GUIDE
How to integrate FileInvite with your existing systems via Zapier or custom API
Want to connect FileInvite with an app outside of the currently supported integrations? We recommend using Zapier, a simple service for making your own custom app connections.
LEARN MORE
Discover more powerful features
Power up your workflow with easy-to-use automation.
FILEINVITE
Trusted by thousands of happy customers
"The amount of time that an employee is required to spend on a case has been reduced by more than eight times."
"Sending reminder emails, sifting through attachments, and chasing files distracts us from our core competencies. Using FileInvite eliminates this. It lets us focus on bringing insights and value to our clients."
"Sometimes there is an opportunity to work smarter rather than harder. FileInvite has delivered massive efficiency gains for us. It's been a huge time saving that we never would have been able to achieve without it."





Delight your clients with the FileInvite experience