Compare FileInvite Alternatives
Trusted by thousands of professionals worldwide, FileInvite accelerates key stages in your document management processes by simply automating the most time-consuming parts of your document collection processes.

But how does FileInvite compare these popular alternatives?
On this page, we'll explore the pros, cons, and differences between popular document management tools.
COMPARE

Dropbox File Request allows you to share documents with colleagues and clients online by giving access to an unlisted folder.
COMPARE

Adobe Send & Track lets you send files to clients for signing and track who opens and edits the files.
COMPARE



FileInvite replaces email when requesting client documents, increasing team productivity by 34%.
COMPARE

Citrix Sharefile is a secure content collaboration, file sharing and sync solution.
It offers client portals for sharing documents.
COMPARE

DocuSign helps you prepare agreements to sign, then get them signed on almost any device.
FileInvite
Adobe
Dropbox
Citrix
Docusign
Sync to cloud storage

Sync your files to your preffered cloud storage

Share files with clients

Send a link to share or receive a file

Manage contacts

Upload,sync and manage contacts

eSign/digital signature

Get contracts signed online

Chat

Message clients within the system in realtime

Live forms

Editable documents for completing forms in context

Templated requests

Save common lists of requested files for repeat use with customers

Custom domain

Use your own URL or sub domain for client portals

Automated follow up

Set a due date and send automated email, SMS or Text messages to your clients requesting the documents you need

Approve and Reject files

A dashboard and workflow for each customer. See documents requested, open, close, approve, reject, and request replacements

Multiple recipients requests

Add a secondary applicant, or second recipient to provide a subset of the information or documents requested

Multi sign digital signatures

Have two parties sign a contract or document

Signature sequencing

Have contracts signed in order by certain parties

Tax file number redaction

Automatically remove sensitive tax numbers from documents

Intuitive secure client portal

A simple to use client portal that clients can access from any device and upload file or pictures of physical documents

Custom branding

Add your logo, company name and branding to cilent portals and emails

Auto PDF

Uploaded photos and documents autoamtically rotate and convert to PDF. Collate all files to form a downloadable PDF summary

Audit trail

History of all uploads, files received and communications with clients. Great for audit trials

Multiple users and permission levels

Give multiple team members access to certain features and funtionality

API available

Connect and trigger actions using your CRM, email provider and many other tools
COMPARE
Dropbox
FileInvite and Dropbox go together like peanut butter and jelly. You request files through FileInvite and when they are returned, they sync into your desired folders named per your naming conventions. The two solutions are powerful and elegant, but both serve very different needs.
Dropbox is a secure file storage service used by millions of people around the world. Many people use Dropbox as a workaround to collect documents from clients by sending them a 'shared folder'. This can be considered a security risk in more security-conscious companies, which is why many opt for FileInvite's secure client portal.
FileInvite provides a better experience for both parties when requesting documents. Some opt for Dropbox because it is a familiar brand for their clients. That's where FileInvite's custom branding options allow these clients to use their own branding to establish trust.
Both services have a digital signature function, Dropbox offers theirs via their sub-brand HelloSign, and FileInvite natively within the product.
Both services are incredibly security-concious, so there is little reason why you would choose one over the other on this basis.

COMPARE
Adobe Send & Track
Send & Track is part of Adobe Document Cloud, it is no longer a standalone service. With Send & Track, you can send files as links, track the files you send to specific individuals, and receive confirmations when others view your files. Send & Track lets you send large files without worrying about email clients rejecting them. You can use it for tracking what you've sent instead of using your email system or overnight delivery system.
FileInvite has many of the same capabilities, and more, thanks to its focus on improving the document collection experience for all parties involved in the process, not just the party requesting the information. Send & Track (Adobe Document Cloud) is a solution that is suitable for information sharing within an organization, but not so when requesting information from external parties.
Both companies prioritize the security and privacy of your and your client's data. If you want to provide the best experience for you and your clients, FileInvite is the preferred solution. If you are only after requesting information internally, Adobe could be a suitable option.
FILEINVITE
Trusted by thousands of happy customers
"The amount of time that an employee is required to spend on a case has been reduced by more than eight times."
"Sending reminder emails, sifting through attachments, and chasing files distracts us from our core competencies. Using FileInvite eliminates this. It lets us focus on bringing insights and value to our clients."
"Sometimes there is an opportunity to work smarter rather than harder. FileInvite has delivered massive efficiency gains for us. It's been a huge time saving that we never would have been able to achieve without it."
Try it out for yourself
How your free trial works
Today
Sign up and get instant access to all features.
Day 5
A team member will contact you asking how your trial is going.
Day 10
Get a reminder email about when your trial will end.
Day 14
If you have not purchased a plan, your account will be paused.
What happens to my data when the trial finishes?
Don't worry, all data will be retained for a period of 90 days before deletion, or upon request. All the files collected by you during your trial will continue to be available in your integrated cloud storage service, if you set it up during the trial.
How much does FileInvite cost?
FileInvite plans start from $17.99/month for our Lite plan, through to $85.99/month for our Multi plan. You can find our full pricing table and payment options under Settings > Plans & Billing on the left sidebar in the app.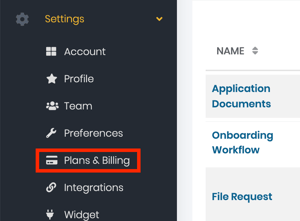 Can I change my plan later?
Of course, you can manage your plan in the app or contact sales. We recommend starting on the Pro or Multi plan in most cases, then upgrading if you require extra invites or functionality. However, the Pro plan is sufficient for most small businesses or teams.
What is so great about FileInvite?
FileInvite automates the collection of files, documents, and data in an easy-to-use platform. You can create an Invite (request) from your clients for any information you need (including forms and eSignatures) and then the client will have their own secure portal to provide the documents to you. The system will gently nudge them to provide the documents to you before the due date you set.
It's simple, secure, and easy to use – for you and your uncle!
Delight your clients with the FileInvite experience