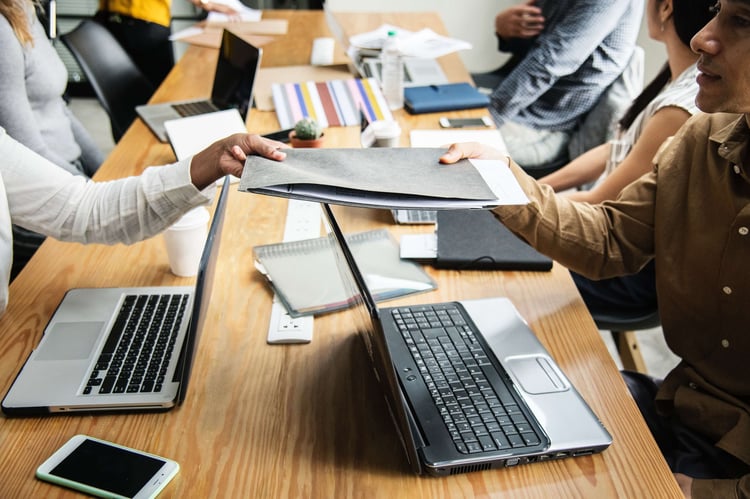 Work is flooding in and the boss is panicking about organising new staff. If your first move is to start firing off emails to the new hires, STOP!
You're going to be swamped with countless applications, employment agreements, bank and tax documents. Even assuming each new hire fills out the documents correctly and returns them on time – and believe us, they rarely do – you then need to get the documents countersigned. You are now in HR hell.
Sounds like you need automated document collection.
Automated systems let you send one set of application documents to multiple recipients, and keep track of the status of each with just a quick glance at the customised dashboard. No need to flood your inbox, and you can set automatic reminders if documents aren't returned on time, in the right format. So what does that mean in practice?
Faster recruiting and onboarding
Automation is essential if you're hiring lots of employees at once. If you try to handle everything manually, two things can happen. One – you'll go insane. And two – your organisation risks missing out on opportunities by not getting enough people up-to-speed fast enough to meet client demand.
Improved time management
Automation also leads to improved time management across the business. It makes your life easier by saving you time on mundane tasks, particularly if you regularly have to onboard large numbers of employees. Shutdowns, seasonal influxes, the beginning of the season and holidays can all compound this. We might be wrong, but you've probably got better things to do than chasing applicants to return documents that they promised to send last week.
Transparent and consistent communication
As well as making life easier for you, automated systems make onboarding simpler for your new employees. And that's crucial if you want to retain your staff once you've hired them. There's nothing more off-putting to talented candidates or new hires than clumsy, inefficient HR processes.
With automation, you'll create a good first impression and ensure things are done the same way, every time. No frustrating delays for you, or your new staff.
Have a team or role that requires things to be done "just so" or a load of product information for new recruits to consume? Automation ensures they all receive the required package of information, in the right order, and you get it to the right candidate. You can give them a custom onboarding, while still ticking off all the boxes.
Compliance and reducing risk
When you're hiring, you're dealing with lots of sensitive information – from financial records to references to background checks. You need to tick all the boxes from a compliance standpoint, and you need to deal with that information securely.
Automated systems help manage those risks by alerting you to any missing documentation and ensuring a thorough, comprehensive paper-trail. And because you're not relying on email, there's no chance of sensitive documents being sent to the wrong person.
Cost efficiency
Inefficient processes can cost your company annual revenue and much more in terms of employee satisfaction. You simply can't afford to go back and fix mistakes that creep into the onboarding process along the way. Do it once and do it right, and you'll find yourself saving money in the long-term.
HR departments are always being asked to do more with less. You can try to meet that demand by working harder and harder but eventually, something's going to give. Why not take the stress out of the onboarding process and improve your overall efficiency by exploring what automated systems can do for you?
See how you can make your HR processes simpler and more effective by signing up for a free FileInvite trial.