The importance of a good client onboarding process is well-established, whether you're talking about an accounting firm or a management consulting agency. Client onboarding deals with the crucial first impressions of new clients, setting them up for lifetime value, and squashing the seeds of churn before they can take root.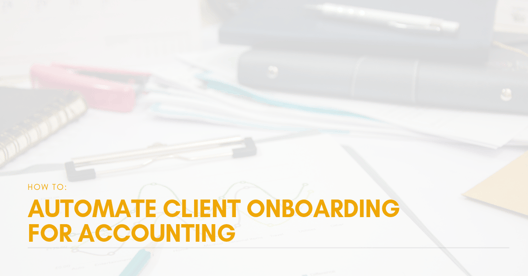 This initial period will set the tone for the rest of the working relationship, and when done correctly can lead to greatly improved retention, as well as a higher degree of general client satisfaction.
Because that's what onboarding is all about. Understanding your client's needs, and making sure they are satisfied.
For financial planning practices, the onboarding process is crucial as any other. Despite this, many agencies see the onboarding process as nothing but a series of dogged tasks they just have to get done to meet some arbitrary compliance quota.
When the process for client onboarding is mired in administrative data-entry without focusing on the strategic potential of making these first impressions count, a huge wealth of value is lost.
Onboarding should be seen as an opportunity to set a strong foundation upon which to build the future working relationship with new clients.
Using FileInvite and Process Street to streamline the client onboarding process
In this article, I'll detail how you can make the most of your client onboarding process using FileInvite, a tool for collecting and managing documents from clients, and Process Street, a piece of bpm software that lets you quickly and easily build and organize workflows.
I'll outline each step along the way for streamlining your onboarding process, using the example of an accounting firm. Plus, there's a free template you can use to get started straight away.
With the use of auto-fill forms and conditional logic within the Process Street checklist, manual work is minimized. On top of that, an integration between Process Street and FileInvite will mean that transference of important documents collected during the onboarding process will be automatically saved and uploaded to FileInvite.
By automating your client onboarding process, you'll be able to focus your energy on your client's needs and goals and use that insight to actively apply the best solutions for each situation.
Let's get started!
Integration: An introduction
To set up our integration between Process Street and FileInvite, we'll be using Zapier.
Zapier is a tool for linking software together, allowing different tools to "talk to" one another and cooperate in order to be more useful to you.
It has things called "Zaps", which is just another name for integrations.
You should also understand the concept of an API key. These are basically just things that allow all of your software to communicate securely.
You don't really need to understand what an API key is; just where to find it (which is very easy).
I'll be getting into more detail as we proceed, and each step will be clearly illustrated with an image.
What's in a Zap? Breaking down Zaps in Zapier
Zaps are made of two main parts: triggers and actions.
Triggers are events that, well, trigger the actions in Zapier. It's all quite self-explanatory.
Triggers and actions can both be anything: it just depends on what you set them as.
In this case, we want to set our trigger to be a new task checked in Process Street, and the subsequent action as a new invite created in FileInvite.
Setting up Process Street as a trigger in Zapier
First things first, head on over to Zapier and make sure you're all signed in.
Then, click the orange "Make a Zap!" button in the top right.
Search for "Process Street" in the search box, and select "New Task Checked" as the trigger, like this:
You'll be prompted to select your organization inside of Process Street. If this is your first time using Zapier with Process Street, you'll need to input your Process Street API key, which can be found in the "Settings & API" tab of the organization you wish to add.
Just click the "New API Key" button and copy the code into your clipboard.
Now, return to Zapier and click "Connect An Account" and input the API key you just created when prompted.
Now you'll need to set up a Process Street template so that we can test out this Zap is working.
You can quickly make your own by creating a new template, or you can grab a pre-made one, like this client onboarding checklist for accounting firms:
When you've chosen the checklist you want to use, input the necessary fields into the setup page and click the "Continue" button at the very bottom of the page.
That's it for the action: on to the trigger!
Setting up FileInvite as an action in Zapier
Now we've set up the trigger, it's time to add the action step. Click "Add a Step" and search for "FileInvite".
Now set "Create Invite" as the action.
Time to link up your FileInvite account with this Zap.
API Key and other details can be found on the Zapier settings integration page of your FileInvite account. There will be three fields to fill in. Hit "Save + Continue" when you're linked up.
Let's set up your FileInvite settings.
This will determine what happens in FileInvite when the Process Street trigger is activated.
Now all that's left is to test the Zap.
Testing the integration
Hit "Send Test To FileInvite":
If it worked, you should see something like this:
The email I used was just a test address, but that's not important. We now know that the action step is firing a request to that email address pulled in from the Process Street checklist whenever it's triggered.
Hit "Finish", and you're nearly done.
The last thing to do is to give the Zap a name and activate it!
Congratulations, the Zapier integration is up and running.
Now you'll be able to automatically send requests for any important documents you might need during the onboarding process - think how much time and money you'll save by eliminating the tedious task of manually requesting each document for every client you deal with!
Head on over to process street for more information and if you're not onboarding with FileInvite already - start your free trial here.