Accounting
AI & Accounting: How Generative AI Technology Can Lead to Better Work-Life Balance for Accountants
Gain insights about AI technology in balancing work and personal life and some of the leading AI-driven tools in the industry.
---
As technology continues to facilitate 24/7 connectedness and customers across industries increasingly expect immediate responsivity, professionals in many traditionally white-collar industries find it difficult to maintain healthy boundaries between their careers and personal lives. Specifically in the accounting sector, a significant 88% of professionals report wanting a better work-life balance. These numbers are a symptom of burnout in the industry and point toward the need for innovative solutions in accounting tools for small businesses.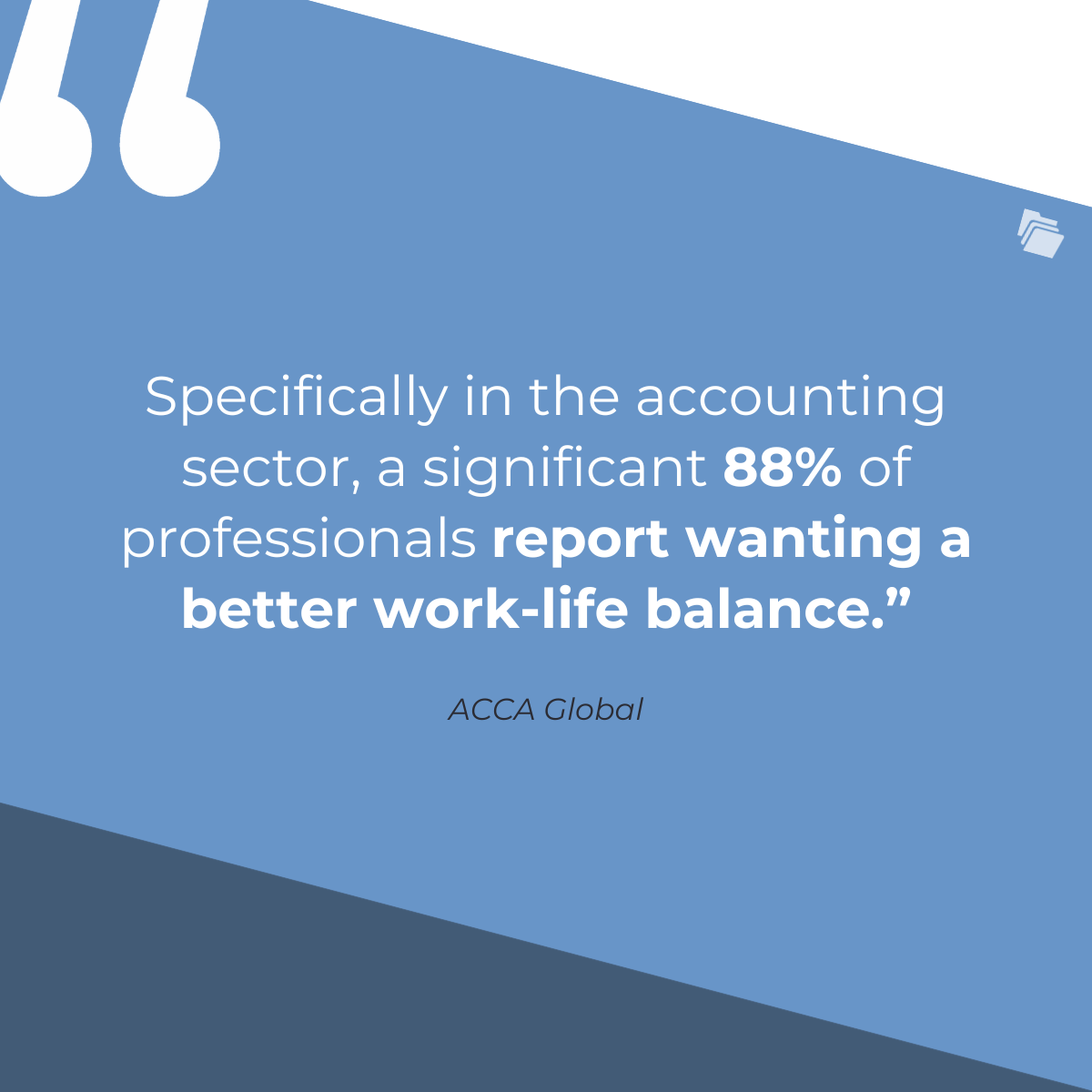 In this context, generative AI technology has emerged as a promising problem-solver, with the potential to automate repetitive processes, enhance efficiency, and offer accountants the time-management flexibility they need. The adoption of AI technologies in the industry may prove invaluable for promoting a healthier work environment, combatting burnout, and retaining talent in a sector known for its rigorous demands. This guide covers the potential role of AI in rebalancing professional and personal needs for accountants and introduces some of the industry's current top AI-driven tools.
The Challenge of Retaining Accounting Talent and Avoiding Burnout
Since 2019, the number of accountants and auditors in the U.S. has declined by 17% — or roughly 300,000 full-time positions. Although retiring baby boomers account for part of this decline, a concerning trend of departure from the profession has also emerged among younger accountants (ages 25 to 34) and mid-career professionals (ages 45 to 54).
Several factors contribute to the growing labor shortage. Traditionally, accounting has an image problem, characterized by the perception of long working hours. While past generations might have tolerated extended workdays, younger Millennial and Generation Z professionals prioritize a better work-life balance and prioritize their lives outside of work distinctly from their predecessors.
Additionally, the attraction of better compensation in other less demanding fields draws young people away from the commitment to learning professions like accounting. Public accounting, especially for fresh graduates, often offers comparatively lower pay. Although recent salary adjustments have sought to remedy this disparity, the starting salaries in accounting often lag behind those in other business sectors.
Considering the projected 6% growth in job openings for accountants and auditors from 2021 to 2031, it's imperative for hiring managers to devise innovative strategies to attract and retain talent. Addressing work-life balance, competitive remuneration, and offering opportunities for skills enhancement in emerging areas like AI and machine learning will be pivotal in rebuilding the talent pipeline.
AI Technology and the Accounting Industry
Even as labor shortfalls continue to broaden, advancements in AI and machine learning (ML) have begun reshaping day-to-day responsibilities in the accounting sector. Already the global market for AI technologies in accounting is growing by a compound annual growth rate (CAGR) of 32% and 40% of surveyed accounting firms have plans to adopt generative AI tools in the next year. These developments. offer significant opportunities to optimize work and potentially promote a better work-life balance. Specifically, AI technologies in accounting have new capabilities for data processing, automation, and natural language processing (NLP). These technologies can significantly enhance practices related to data analytics, making data interpretation faster and more efficient.
AI can manage a wide variety of repetitive tasks such as inputting and matching data, receipt reconciliation, invoicing, and expense reports, among others. Additionally, AI systems are continually refining their algorithms with more data input, ensuring continuous, autonomous improvement and reduced susceptibility to errors. This automated efficiency yields three primary benefits for accountants:
Invisible accounting: This refers to automated processes running in the background, allowing human accountants to focus on strategic decision-making.
Continuous auditing: AI can conduct audits without breaks, ensuring a consistent and precise assessment.
Active insight: This provides accounting managers with real-time insights into their finances, facilitating informed decisions.
Historically, technological advancements in accounting, such as the introduction of bookkeeping software, have expanded the scope of the profession rather than diminishing it. Today, many accounting software platforms like QuickBooks, Oracle, and FreshBooks incorporate AI elements to streamline operations. These platforms use AI to automate back-office tasks, assist in financial planning, and manage various business processes.
With AI and ML tools, accountants can move beyond rote, repetitive tasks and focus on higher-skilled work. This digital evolution improves accounting efficiency and offers the potential for a more balanced professional life, as more tasks become automated and work hours are potentially reduced. As the industry continues to evolve with generative AI tools like ChatGPT, the accounting profession will need to adapt, capitalizing on opportunities to recreate its image and attract young professionals.
Top AI-Based Accounting Tools
Although AI-assisted accounting tools are still relatively new, a handful of platforms have already emerged as trendsetters. Here are four of the top software systems in 2023.
1. Dext Prepare
Dext Prepare — 4.6/5 stars on the popular software review site G2 — is a tool designed to assist accountants, bookkeepers, and businesses in managing their financial documents. Using AI, Dext can extract key information from a wide range of financial documents, including receipts and invoices, thereby automating data entry. Users can then push this data to their accounting software, which helps streamline the accounting and bookkeeping process.
2. MindBridge
MindBridge AI Auditor — 4.6/5 stars — is a platform that uses artificial intelligence to assist in the financial audit process. It can analyze 100% of transactional data within an organization's financial statements, flagging anomalies or patterns that could indicate errors, fraud, or other financial misstatements. This helps auditors focus on higher-risk areas and offers a more comprehensive review than traditional sampling methods.
3. DataSnipper
DataSnipper — 4.9/5 stars — is an AI-driven tool for embedded use in Microsoft Excel. DataSnipper has extensive capabilities for automating data entry and extraction, as well as cross-referencing and documenting accounting and auditing sources. Additionally, accountants can use DataSnipper for:
Risk analysis of financial transactions
Behavior analysis to identify employees or suppliers at high risk for fraud
Automated compliance checks to align internal practices and policies with applicable regulations
4. Zeni
Zeni — 4.8/5 stars — is a comprehensive finance platform tailored to startups, small businesses, and financial professionals seeking AI-driven accounting solutions. Zeni simplifies and automates various finance functions such as bookkeeping, accounting, and CFO services. The platform is adept at analyzing financial transactions in real time, offering insights, and generating detailed financial reports.
Users benefit from its ability to provide a holistic view of their finances, ensuring that they make informed decisions based on accurate and up-to-date information. In addition, Zeni's AI capabilities facilitate seamless integration with other financial tools, creating an efficient, end-to-end financial management ecosystem.
The Role of Accountants in an AI-Assisted Workplace
The integration of AI tools in the accounting industry signals a transformative shift in the traditional roles of financial professionals, especially bookkeepers. Historically, bookkeeping has been a manual, labor-intensive process involving meticulous data entry, transaction matching, and reconciliation. With AI's capabilities for automating these tasks, responsibilities like bookkeeping are likely poised for major change.
In an AI-assisted workplace, the role of bookkeepers will not become obsolete. As bookkeeping services still account for 79% of services performed by accounting firms, their roles will likely expand due to increased efficiency in repetitive tasks. Instead of spending most of their time on data entry and basic reconciliations, bookkeepers will be entrusted with more analytical and advisory roles. AI tools will manage routine tasks, while bookkeepers will interpret and act on the insights generated by these tools, ensuring data accuracy and providing strategic financial advice to stakeholders.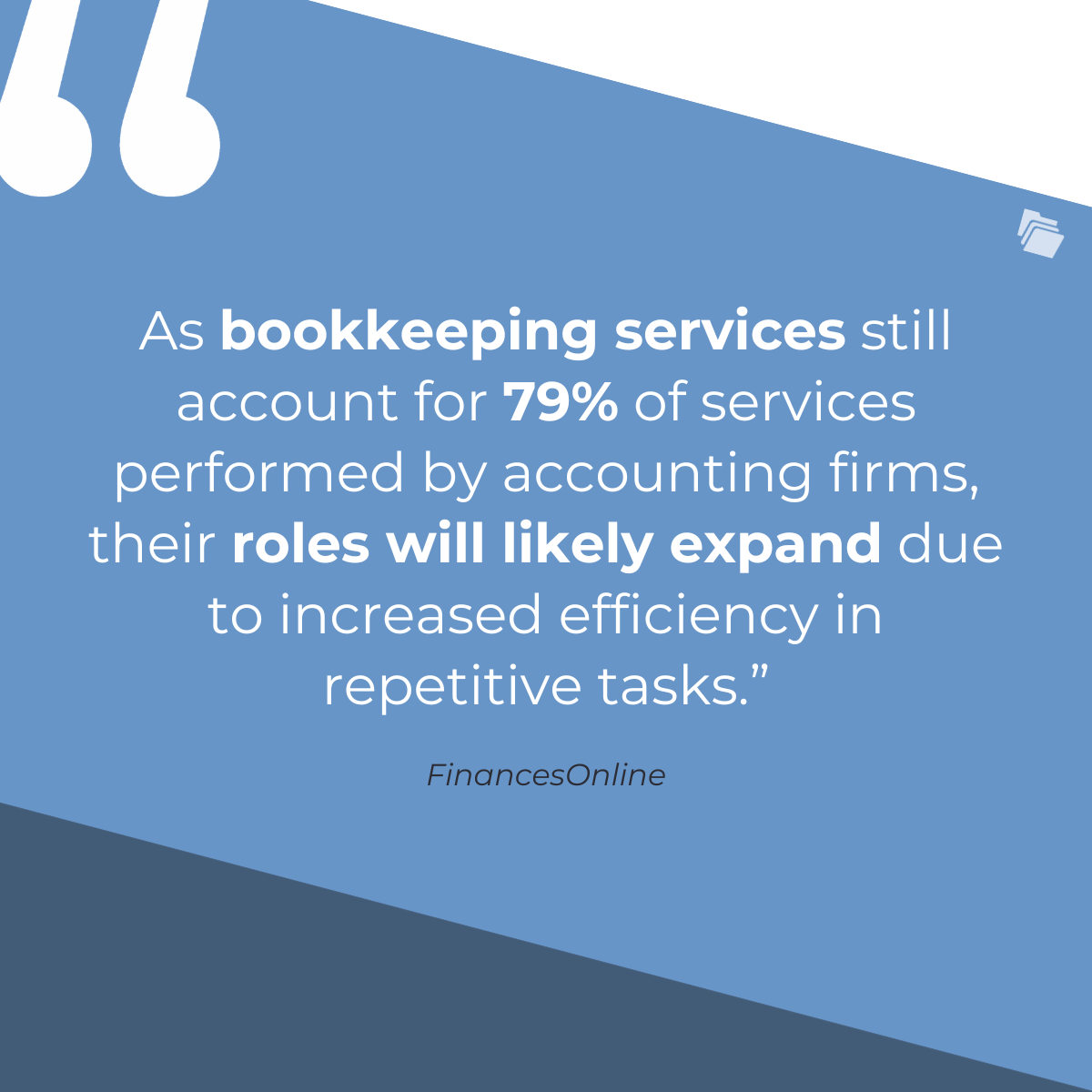 However, for bookkeepers to thrive in this evolving landscape, upskilling becomes necessary. Currently, 55% of accounting firms report having adopted AI technologies, with fewer than a third using those technologies for more than one business function. As such, accountants and bookkeepers must continue to deepen their understanding of the AI tools they work with and enhance their analytical skills. Familiarity with data analytics, financial modeling, and forecasting will be beneficial. Additionally, soft skills like critical thinking, communication, and forecasting capabilities will be critical, as bookkeepers transition to more advisory roles where they help businesses understand their financial health and make informed decisions.
FileInvite: Extended Process Automation for Accounting
FileInvite is a cutting-edge file sharing and document collection platform that aligns effortlessly with AI-assisted accounting tools. FileInvite's capability to generate client portals swiftly offers accountants a secure environment for document collection. These portals are highly adaptable, allowing:
Tailored permissions
In-portal communication
Streamlined request management
Clients can access these portals from any device and uploading documents securely to FileInvite is simple. You can even enable direct captures from smartphone cameras and facilitate digital signatures. This versatility greatly complements the automation features of AI-driven accounting platforms, reducing manual data entry and ensuring data accuracy.
Additionally, FileInvite provides state-of-the-art security features and can replace email attachments as a means of collecting client financial documents. By transitioning document collection from email to this platform, accountants not only bolster security but also optimize processes, evidenced by a 64% faster document return rate.
The integration capabilities of FileInvite, especially through its API, can seamlessly connect with AI-assisted accounting systems. This synergy ensures that documents collected via FileInvite can be automatically ingested, analyzed, and processed by accounting platforms, further enhancing process automation and efficiency.
Streamlined Accounting Workflows with FileInvite
Boost your accounting efficiency with FileInvite. Securely collect documents, streamline communications, and protect against cyber threats. Integrate with AI-driven accounting platforms for streamlined workflows and seamless automation.
Sign up for your free plan of FileInvite today.
Related Posts: