KYC VERIFICATION
Collect KYC and CDD documents up to 80% faster
Gather all the documents, signatures, files, and data required for KYC in record time. Discover why one-third of all brokered loans in Australasia are powered by FileInvite.

Stop emailing clients for KYC information
With our live forms & request templates, you could securely request the information you require from your clients today! Simply start your free trial, select your preferred template (or create your own) and send your first Invite. With automated reminders, your clients will return your requests back to you faster than ever.
A secure portal that your clients can access on any device.
Request information via FileInvite and, once approved, files are processed and synced to the cloud.
Never worry about improper formatting again. FileInvite can automatically convert your returned documents to PDF.
You set the naming conventions of each request you make, so when your requests are returned to you – it's clear what they are.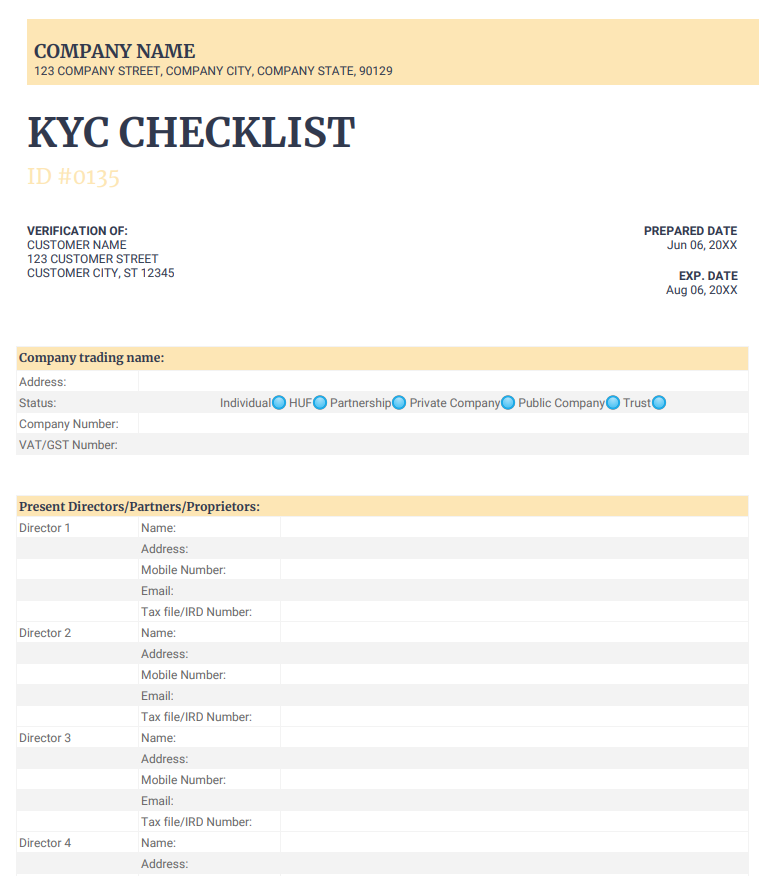 Hunting for an interactive KYC checklist form?
With our live forms tool, you can create an online KYC form in less than 10 minutes. Upload your preferred KYC form or choose one from our premade templates. Just add form fields and you're ready to go.

It can be PDF, word document, or a version tailored to your needs.
What is the form experience for my clients?
Your clients get an easy-to-use client portal that is accessible from any device. There they can enter the data using a keyboard rather than printing it out, scanning, faxing, and going through all that trouble of uploading it again or emailing it to you.
They can also e-sign or add their digital signature to the form too. Perfect for disclosure agreements!
How do I edit forms?
Use our intuitive form creation tool to create and edit your online forms. Start your free 14-day trial today to see for yourself.
Here's how it works:
1. Upload your PDF fact find or word document
FileInvite lets you bring your exiting print-ready documents online and overlay form field areas where you would like to collect data.
2. Select areas for collecting data input
Add text boxes, radio buttons, date fields, and even areas to sign or initial. If you need to be specific you can also add drop-down options to limit choices.
3. Share with your clients
Share the document through FileInvite and request all of your supporting documents in a simple request checklist.
7000
+
5-star reviews from FileInvite Portal™ users.
30
M+
Over 30 million files securely collected
10.5
h
Average 10.5 hours saved per week per user
1
M+
Over 1 million FileInvite Portals™ served
FEATURES
Save hours each week with easy-to-use automation
When deadlines loom, there are better things to be doing than chasing clients for information.
"Sometimes there is an opportunity to work smarter rather than harder."
- Matt Nicolosi, Vice President and Director of Strategic Growth Initiatives, First Home Bank
1 years' worth of loans processed in 2 months
Increased Capacity
9,000 loan inquiries in 4 months
TIPPING POINT
When First Home Bank began to process SBA Paycheck Protection Program (PPP) loans when the pandemic hit, their loan volume skyrocketed. The demand was so high that they made a strategic decision to pull back on 7(a) loans temporarily to keep up with the volume of PPP loans.
Moving forward, they needed a way to increase efficiency and improve the customer experience to be able to take advantage of the hot market for both SBA 7(a) loans and PPP loans.
Additionally, management had little insight into their loan pipeline until loans were closed, making it difficult to make informed business decisions.
RESULTS
Higher Volume, Superior Experience, Data Governance
First Home Bank processed as many loans in a two-month period as they might have processed in an entire year using their old, manual methods with similar staffing. This efficiency gain enabled them to capitalize on the increased demand for PPP loans that many competing lenders couldn't take on.
Bank customers are praising the simple and intuitive customer portal. Both parties can easily see the status of a loan application from a centralized dashboard, and messaging with customers from the platform's chat feature simplifies communication.

"The amount of time that a McCambridge Duffy employee is required to spend on a case has been reduced by more than eight times."
8x Time Saved
Increased Capacity
Clients Doubled
TIPPING POINT
The traditional methods relied on for document collection were time-consuming. Generally, the company used the postal service, email, and occasionally, WhatsApp to coordinate their document collection.
As volumes grew it became increasingly challenging to deliver the quality of service McCambridge Duffy Group is known for. Because the process wasn't very intuitive, interactions with the firm were often difficult—a far from ideal first experience for their clients.
RESULTS
87.5% decrease in request return time.
Processes that previously took the firm's practitioners forty days, now take five.
Client feedback has been excellent. They report being able to quickly and easily upload documents whether they're working on their desktop or using a mobile device.
"Implementing FileInvite has allowed staff to focus on providing more meaningful advice to each client even as the number of clients has more than doubled."
Stop chasing clients for documents
Get documents back 64% faster with FileInvite
"The amount of time that an employee is required to spend on a case has been reduced by more than eight times."
"Sending reminder emails, sifting through attachments, and chasing files distracts us from our core competencies. Using FileInvite eliminates this. It lets us focus on bringing insights and value to our clients."
"Sometimes there is an opportunity to work smarter rather than harder. FileInvite has delivered massive efficiency gains for us. It's been a huge time saving that we never would have been able to achieve without it."
Delight your clients with the FileInvite experience