Many industries are becoming heavily legislated around getting to know your customer from a legal perspective. KYC or Know Your Customer, forms part of the due diligence process for AML/CFT.
But just what are the main elements of a KYC document checklist?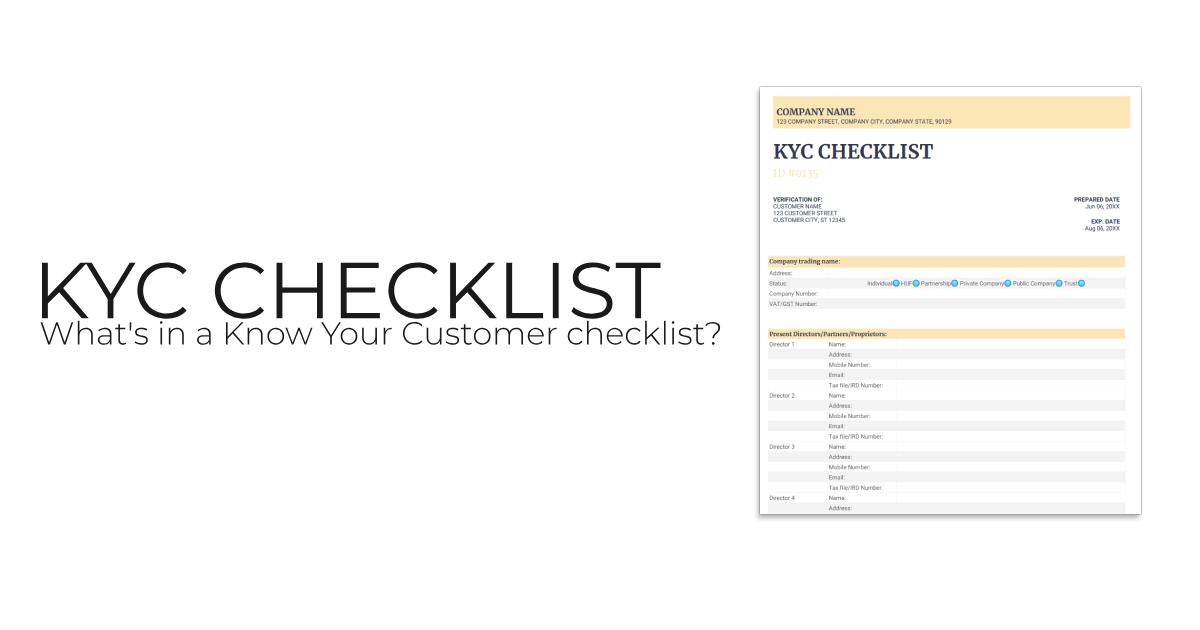 KYC Checklist - Know your customer to protect your business.
A basic KYC Checklist will include:
Company trading name

Address
Status
Company Number
VAT/GST Number

Details of present Directors/Partners/Proprietors

Name
Address
Mobile Number
Email
VAT/Tax File/IRD Number

Company Bank Details

Name of the bank
Branch Address
Account Number
IBAN/Swift Code

Primary Contact

Full Name
Address
Mobile Number
Email
VAT/Tax File/IRD Number
Supporting files for KYC
As part of the KYC process you will also need to request as verification copies of these KYC documents:
Certificate of Incorporation (for Companies, LLP, Trusts)
GST/company tax number
Confirmation of company address (Telephone bill/Electricity Bill)
Passport/Driver's License of Primary Contact and Directors
Tax file/IRD Number of Primary Contact and Directors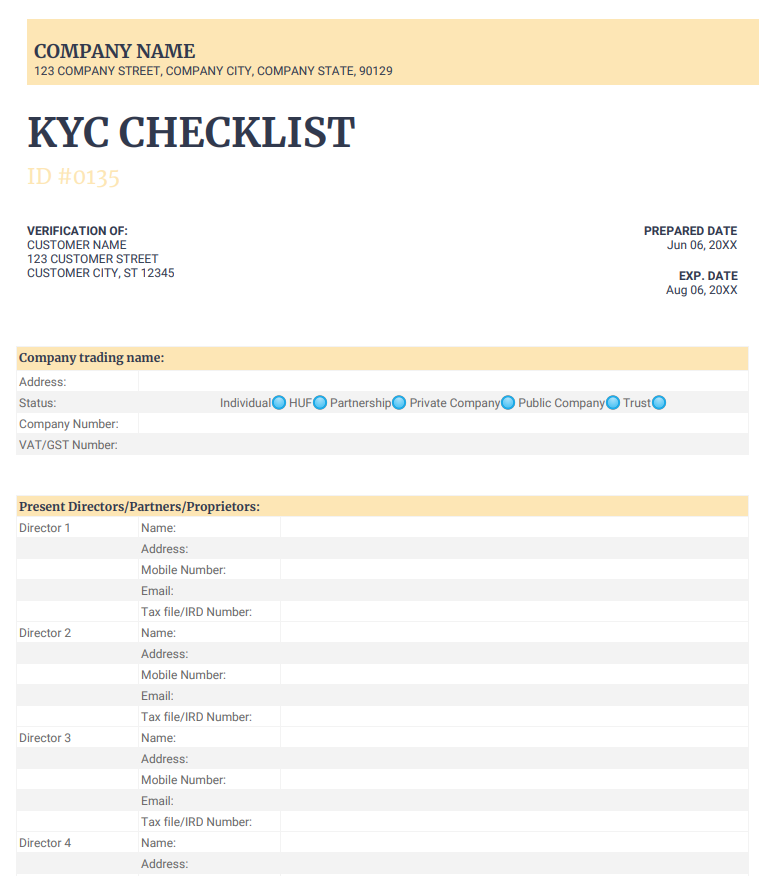 As always, we recommend consulting a lawyer to ensure you are collecting the right KYC data and supporting documents for your industry
Auditors and legislative bodies are clamping down to capture illegal activities and ensuring purchases are lawful. Acronyms like KYC (Know Your Customer) CDD (Customer Due Diligence) and AML (Anti Money Laundering) have placed added focus on clearly verifying the identity of your customers and the source of their funds for purchases of property and businesses.
Completing a kyc checklist with FileInvite will ensure that you have all your supporting files in one system should you be required to provide them.
Our secure client portal also gives a good first impression. Users can complete and e-sign or digitally sign your KYC form, and upload supporting documents from any device. Start your trial today.