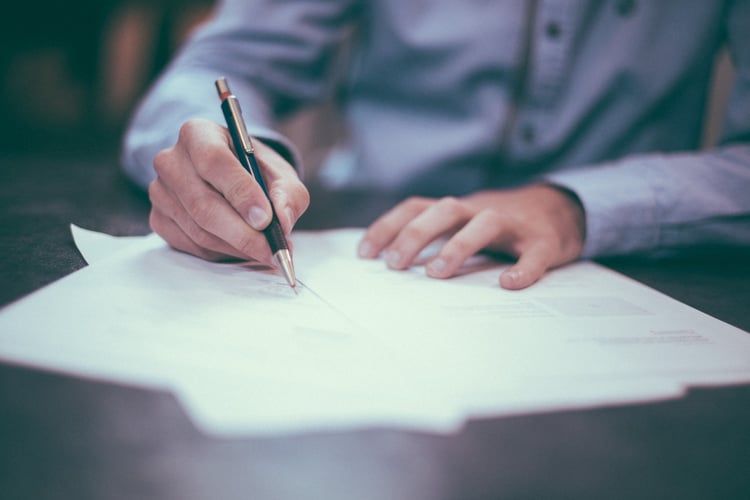 It probably seems obvious but if you don't market your business, you won't succeed. You might have the best mortgage broking game in the marketplace but that means nothing if potential customers don't know about it.
How are your current marketing strategies working for you? In this blog, we delve into everything you need to know about marketing your mortgage broker business.
General marketing 101
In general, most marketing can be divided into one of two broad categories:
Outbound marketing tells your audience who you are, what you do, and why they should use your product or service. It gives you complete control of your message but it can be expensive and won't always produce high-quality leads.
Inbound marketing speaks to audiences who are already looking around for a specific product or service. They might not have heard of your business, but since they're already in the market for something like your offering, they're a lot more open to your pitch. Inbound marketing typically relies on blog posts, social media, and content marketing, and can be more closely targeted to likely customers.
Digital marketing tactics
The strategies you use depend on your particular offering and the state of your market. But small companies and start-ups tend to get the most out of digital marketing.
Digital techniques change as the technology evolves but here are some of the main things you need to think about:
Target your audience. Unless you have money to burn, there's no point trying to market to everyone. You're better off working out exactly what sort of customers will be the best fit for your business and are most likely to want your services and design a campaign that addresses their specific needs.

Pay-per-click advertising. Most customers start their search for a new provider via Google, and it's crucial you appear on the first page of results. You can do that by bidding on keywords relevant to your business. The price will vary depending on how much competition there is for each keyword, but it can be money well worth spending.

Remarketing. Very few customers will sign-up for your service instantly. Most will do more research or wait for a while before making a decision. Stay top of mind by remarketing to them after they leave your website, using an embedded code in your site that tracks them and serves them further ads as they shop around.

Email lists. Lists of client emails are some of the most valuable information you will ever own. Use them wisely. Regular, useful emails updating your clients on recent developments or new opportunities can encourage repeat business or generate new leads. But if clients feel like you're cluttering their inboxes with spam, they'll turn off quickly.

Voicemail marketing and follow-up. If you're calling potential clients, leave a message but make sure you follow it up with an email. Clients expect to see something in writing explaining what it is you're asking them to do.
Using social media to market your business
Remember - not all social media platforms are created equal. Each has specific uses, audiences, and quirks. Choosing the right one is crucial to make sure you're speaking to the right people. For mortgage brokers, some of the key channels include:
LinkedIn. It's not just for staying in touch with people who may give you a job in the future. It's also a way to search for people who have just got a big promotion and, therefore, might have money to spend.

Facebook. It's the biggest social media channel in the world and its marketing tools let you target ads with incredible precision to exactly who might be looking for mortgages or refinancing in your area.

YouTube. This is a great way to personalise your marketing. By appearing in your own videos, you give your potential clients a sense they're dealing with a real person, rather than a faceless company.
Remember you don't have to be everywhere on social media. Select the networks that align with your target audience as defined in your overall mortgage broker business plan.

Meetups for learning about mortgages
You can read all the books in the world on mortgages but there's no substitute for experience.
Each year thousands of first time buyers and buyers in general take up a new loan. Creating a meetup to educate borrowers or referral partners in your area and share ideas, could provide you with a steady source of leads.
Share your expertise. You could:
Teach the basics of home loan terminology and rate options to borrowers .
Explore the impacts of legislative changes.
Or discuss new developments and investment opportunities.
Leveraging referrals through joint events
You might want to think about organising your own, perhaps in partnership with someone in a related area. That will build your reputation as an established player, and it can lead to more referrals.
Say a developer launches a new project. As well as potential buyers, you'll have realtors and brokers attending. Then, when the new properties go on the market, the brokers and insurers will attend that event. Very quickly, you're getting the right people in the room and you can leverage each others' connections or email lists to market your own business.
So there you have it! That's our quick and dirty guide to marketing your mortgage broker business. Once the leads and new business start rolling in, make sure you're equipped to deal with it all. FileInvite is a document collection service that can help you close deals faster and keep your current clients happy as you'll have better control over all your data. Sign up for a free trial today!