THE ULTIMATE GUIDE TO GROWING YOUR BUSINESS
Mortgage Broker Business Plan
Explore our Mortgage Broker Business Plan to learn how to grow your business while providing a best-in-class client experience.
CONTENTS: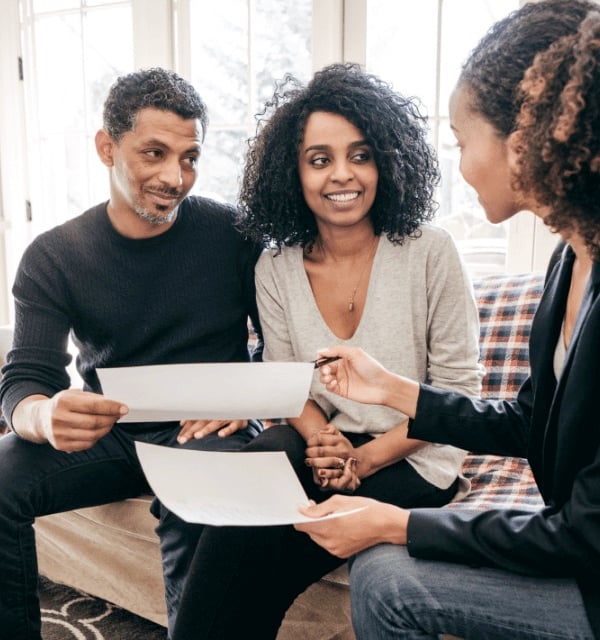 Grow your business during the age of digital transformation:
Mortgage brokering is a highly profitable industry for those that grow their business the right way. It can be a challenge when you're also trying to juggle the work of putting loans together along with the necessary business admin. Fortunately, there's a way to get and convert more leads all while still providing excellent service for your existing customers.
1. Mortgage Broker Business Planning
When you spot a gap in the market, it can be tempting to dive straight in. But you're taking a big risk if you don't do your homework first. Whether you're looking at starting up, or you want to lift your business to the next level, you need a plan that covers the basics.
Ask yourself these four questions. Then, you'll also need to think about how you're going to get a foot in the market, and grow your market share against the big players.
1. Who is your target market?
Residential or commercial, first-time buyers or experienced investors, owner-occupiers, or those looking for a vacation property?
2. Where are you going to focus?
Which neighborhoods? Which cities or regions? Inner-city, suburban, or rural? National or global? Will you take virtual clients?
3. How big do you want to be?
What do you need to break even, how many loans would you like to take on, and how much work can you realistically manage? Do you want to expand outside your current territory?
4. What's your long-term growth plan?
How much extra staff? Full-time, part-time, or will you use virtual assistants to help you out with running the business? Will you need new premises, and how will you cover these increased costs?
2. Working with Aggregators
Getting business from your existing clients and having repeat business is a big problem in this industry. But working with an aggregator can help solve this and a number of other challenges for mortgage lenders
Streamline integrations and connections with banks
Increase client confidence in your business as part of a larger organisation
Strengthen your branding and provide marketing support
Provide access to larger client networks and increased referrals
Diversify income through licensing opportunities with the aggregator
Reduce admin via the aggregator's regulatory and compliance services, loan information and lodgement services, and commission processing portals
Improve business planning and development through specialised software
Provide training and business development programmes
3. Security Compliance and Regulations
There are major penalties – financial and reputational – if you don't play by the rules, so it is imperative that your organization take the necessary steps to remain secure and compliant.
How can you grow in a compliant way?
Financial regulations are complex so it's important that you understand the ins and outs.
Have a good audit trail
Put simply, you need to know where the money comes from, where it goes, and who deals with it along the way. That's important for the taxman and regulators but it's in your interests too. Unless you keep good records of what's happening to your money, you'll never be able to make informed decisions for your business.
Be careful with personal info
If you rely on emails and attachments, you need to be careful about the personal information they might contain. Emails are vulnerable to hacking, can easily be sent to the wrong person, and attachments go missing all the time. That's where best practices with online documents and newer technology like automated document collection systems can offer valuable safeguards for you and your customers.
4. Leveraging Tech to Grow Your business
Tech solutions have boosted business productivity by automating the most mundane administrative processes, introducing more consistency into how processes are run, and reducing the chance for human error.
Automation is particularly important in mortgage brokering since success depends on the volume of transactions you can push through. The more time you spend on the paperwork involved in loan applications or on basic business admin, the less time you have to chase new leads. There are many uses and benefits of technology for mortgage brokers.
Technology can enable every part of your business, but our recommendation for areas to explore first would be:
Automating leads
Attracting, managing and increasing referrals
Processing deals
Creating online fillable forms
Automating communications
Managing accounts and admin
Enhancing security
Streamlined onboarding processes for customers
5. Document Collection Software for Mortgage Brokers
As far as processing deals go, document collection software has changed the mortgage business immensely.
Rather than your staff having to chase clients for documents and collate materials by hand, these systems can automate the entire process from end-to-end. Some common ones include:
FileInvite requests documents from clients, sends reminders and saves it all to the cloud.
Bank Statements allows you to retrieve bank statement data quickly and securely.
CashDeck provides both instant retrieval of bank statements as well as expense analysis.
Evernote records and shares notes from various devices.
Google Drive allows access to, and the ability to edit your documents stored in the cloud.
6. Marketing Your Mortgage Business
It probably seems obvious but if you don't market your business, you won't succeed. You might have the best game in the business but that means nothing if potential customers don't know about you.
Small companies and start-ups tend to get the most out of digital marketing. Digital techniques change as the technology evolves but some of the main strategies you need to use include targeting your audience, pay-per-click advertising, remarketing, email lists, voicemail marketing. Having a broker website with these key elements and a way to capture leads is a no-brainer.
It's also important for mortgage brokers to be active on social media. Key social channels include LinkedIn, Facebook, and YouTube. But of course, there's no substitution for real-life interaction!
You should also be attending meetup events, or even organising your own event. Read our other tips for marketing your mortgage business here.
7. Provide the Best Experience
From building relationships organically on social media, to brokering the loan that lands someone their dream home, it is imperative that you provide the best experience from day one.
So how do you provide the best experience?
You move forward with clients and leads efficiently and transparently, all while providing personalized service. While that may sound like the standard operating procedure, it's actually harder than it seems.
That's because:
Your team could be overwhelmed and overworked
Their inboxes are littered with sensitive client documents (that cannot be easily located)
Your administrative costs keep you from taking on new clients, and growing the way you want
Clients find it difficult to return documents ahead of their deadlines (meaning your team needs to chase down their information)
There is now visibility on the status of requests
Information gets lost, email bounce, and the application drags on
While this may seem like an exhaustive list, this is only a small amount of many common challenges faced by mortgage brokers. That's where FileInvite's automated document collection solution comes into play, helping you to:
SAVE TIME
Boost team productivity by 35% on average
Gone are the days of requesting documents from clients via email. Our client-facing customers have experienced an average 35% increase in productivity as a direct result of implementing FileInvite.
SCALE FASTER
Reduce time to close by 64%
By improving internal and external efficiencies within the document collection process, the entire lending process moves faster, giving you more time to devote to client - and revenue - growth.
WOW CLIENTS
Increase application completion rates by 34%
Give your clients complete visibility into the document collection process - including which documents are due and when, as well as what their requirements are. Not only does this increase application completion rates, but it also improves client experience.
CLIENT SUCCESS STORY
The Mortgage Supply Co - Increasing volume and efficiency in the mortgage business
We caught up up with David Windler, New Zealand Mortgage Broker Of The Year (and FileInvite client) to talk about increasing volume and efficiency in the mortgage business.

Hear how he manages very large volumes of supporting documents for loan applications.
WATCH THE INTERVIEW
Delight your clients with the FileInvite experience