A client portal is the most convenient way to collect documents from your clients.
Letting them struggle to attach files and upload them to various emails is really not ideal. Then you're left battling with a barrage of emails in your inbox. Why not focus on more productive activities?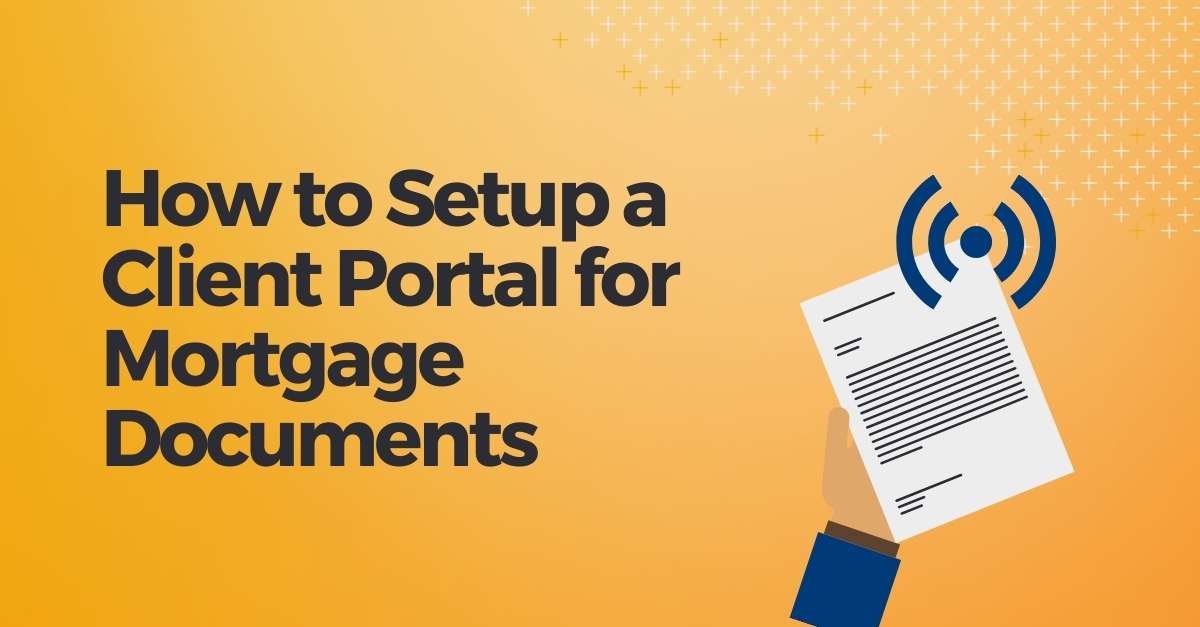 To set up a client portal that collects all the files and info for a loan application, the ideal layout includes:
A clear outline of the documents required, this could include

ID in the form of a passport or driver's license
bank statements for personal or business accounts
payslips
a credit contract
your disclosure statement
A fact find form.

Descriptions of the items required and why you need them
Some methods of contact, should they need to clarity anything
A due date
A submit and sync button when the process is complete.
Create a "Read Me" or "Watch This First" file
This is great for first time buyers, but also those who have not applied for a loan in a while. It pays to give a clear outline. Start by with what's required for the type of application that you are requesting for. That might be a new home, investment property, vacation home or for a self employed applicant.
Reiterate some of the messaging you used in the email that you sent with their portal link. Use a "Watch This First" video here, to add a bit of personality and to avoid the email misunderstandings.
Clearly outline each individual item they need to submit
Step your way through the documents required. State the format you need them in, the validity or period they need to cover and the intended use. This can go a long way to ensuring that things get done once and done right. It can ensure colour copies not black and white, and a full 6 months of bank statements for example.
You can also stipulate exactly which parties need to to what. The primary, secondary or both applicants.
A detailed fact find document
A large part of the information you need can be obtained using a fact find form. The quality of this data and your questions has a massive impact on your ability to prepare. It ensures you are tailoring their mortgage solution to their unique situation.
Offer contact methods that keep a record of communications
One way to ensure all client communications are in one secure spot, is to provide a chat widget. Good chat tools will let clients message you from within the portal, but let you reply via email - back into the chat.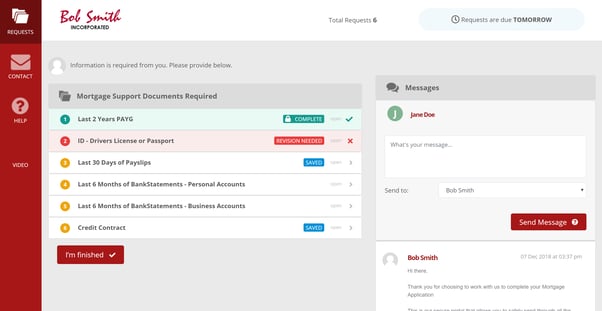 This method saves all the messages into the chat history, which is ideal for compliance.
Set a due date and follow up
This isn't usually part of a standard client portal, but setting due dates for documents is a great trick to put in place. You could also setup an automated reminder to let them know when these documents are due.
Enabling this with document collection software like FileInvite, ensures that you get the documents on time. It follows up with clients when the files become due and past their due by date so you don't have to.
Submit and sync your client portal to secure cloud storage
A submit button allows you to close the process off. From an audit and compliance you have a defined set of files they have submitted at that time and date. It also allows you to lock off the ability for them to upload or submit alternative files.
Ensure you sync your portals to your preferred cloud storage. You can then access the files from any internet enabled device.
Which means you can edits files, review them on the go and collate them. Perfect for bundling a PDF to pass on to the chosen lender at a later stage.
A client portal is a solid investment in customer experience. A great experience of course drives more and more referrals.
---
If you'd like your own white labeled or custom branded client portal,
check out our full solution for mortgage document collection.
See what our customers are raving about.
---